Hello folks! Listen to this weeks interview I had with Anthony Veath and his campaign to bring back a great American toy, the Super Stunt Motocross Dirt Bike!

Our Campaign:
Hello, my name is Anthony. Most of us can remember that one toy we had growing up that meant more to us than any other. The toy that we could spend an entire day playing with. For me that toy was my Team America Super Stunt Dirt Bike. This campaign is to raise funding for a re-engineered 21st century version of this toy.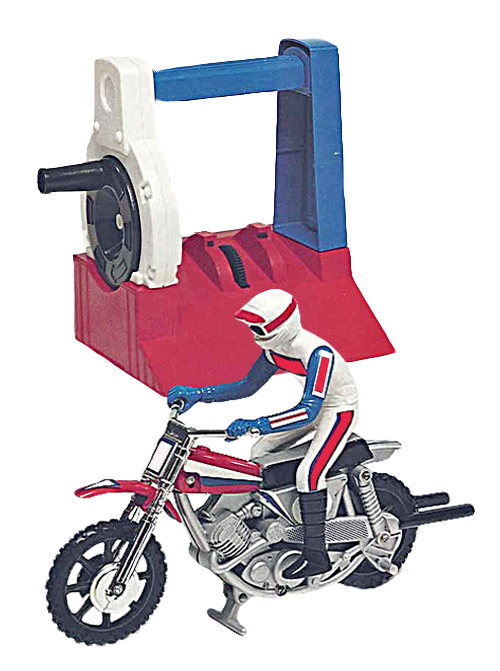 Whether you remember playing with this iconic toy as the great Evel Knievel, or as the re-branded version of Team America "Super Stunt Dirt Bike," you my friend are very fortunate to have played with one of the bestselling toys the Ideal toy company ever made.  If you share these memories, it also means that you grew up with one foot in the 70's and one in the 80's. Arguably one of the best time to have been a kid.
If you are anything like me you have a very special place in your heart for this toy. Even though I could never get my toy to go like it did in the commercials, I lost hours of my summer going on back yard adventures with my Team America set… complete with the Black Marauder on his Super Stunt Chopper.
Unfortunately, when the video game industry boomed we kids found ourselves outside less and less and as a result sales of this awesome toy (and many others) fell.
I was so excited to see the re-release of this toy a few years back. I had big dreams of enjoying it with my kids. But, we were all sadly disappointed to find that the new version was low quality and didn't hold up.
That's why I'm here. My friend Vince (aka the 7-inch Dare-Devil) and I have teamed up to launch an awesome re-engineered modern version of this toy, while maintaining the integrity and the fun of the original design. We've designed a new launcher and the bikes are molded from a new kind of stronger plastic. Our new Super Dirt Bike is better, stronger, faster, more powerful, and jumps further
Take a look:
See more about this great toy and the cause at
https://www.indiegogo.com/projects/super-stunt-motocross-dirt-bike#/